Camgiro Wireless Panning Head for Action Cams
Wifi, Bluetooth or Smartphone control for your Action or Security Cameras, Rainproof tested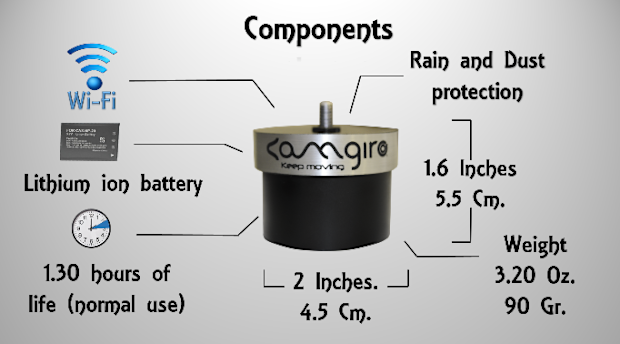 English: It's an accessory that allows a time-lapse of 90°, 180, °360°, Random or programmable in order to take dynamic images by remote control, Rainproof. where you can put a camera GoPro or similar, and move it with a remote control right and left front or Back. There are 3 options of Camgiro's controls.
Español: Aditamento para cámaras deportivas con capacidad de giro de 90°, 180, °360°, Random or programable para toma de imágenes dinámicas a control remoto, Soporta lluvia y polvo y puedes hacer paneos a tu gusto o Random . Puedes controlar tu Camgiro de 3 opciones.

You can use a Smartphone, Tablet or even your voice as controller.
Puedes usar tu Smartphone o Tablet como un control, inclusive moverla con tu voz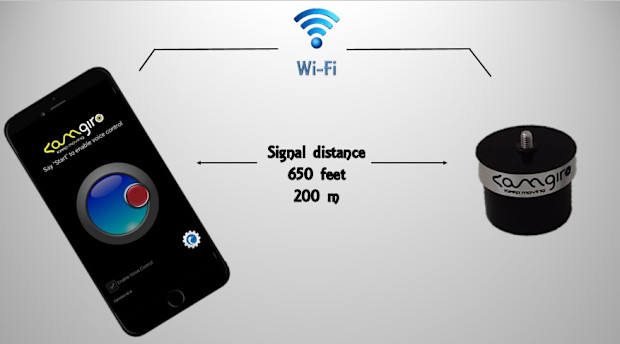 You can also control the Camgiro connecting it via Bluetooth on your Android or iOS device.
Puedes usar un control remoto bluetooth que se conecta a tu Smatphone como medio de comunicación.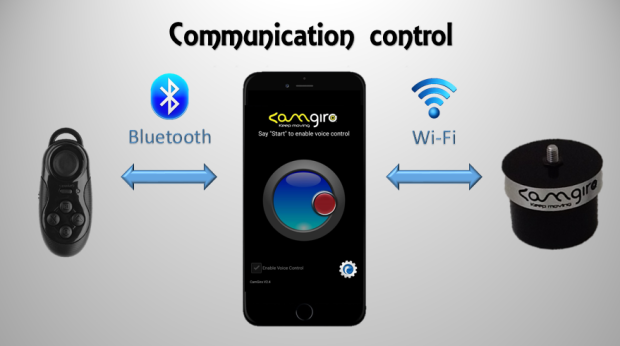 Only using the WiFi Wireless remote control.
Usando solamente el control remoto Wifi.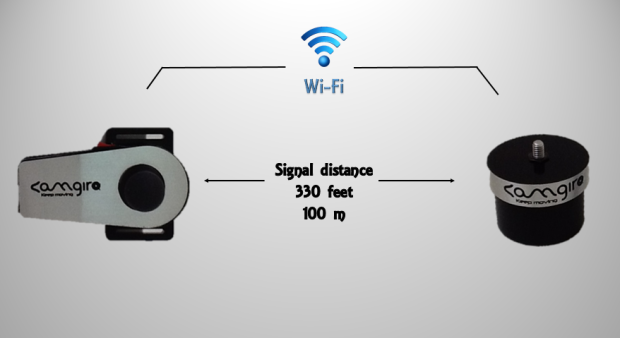 You can use them all simultaneously
Puedes usar todo al mismo tiempo.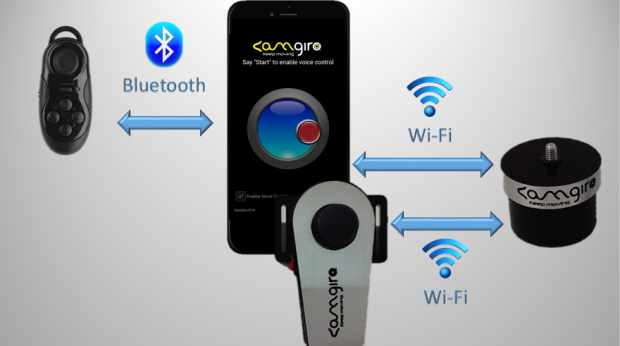 Video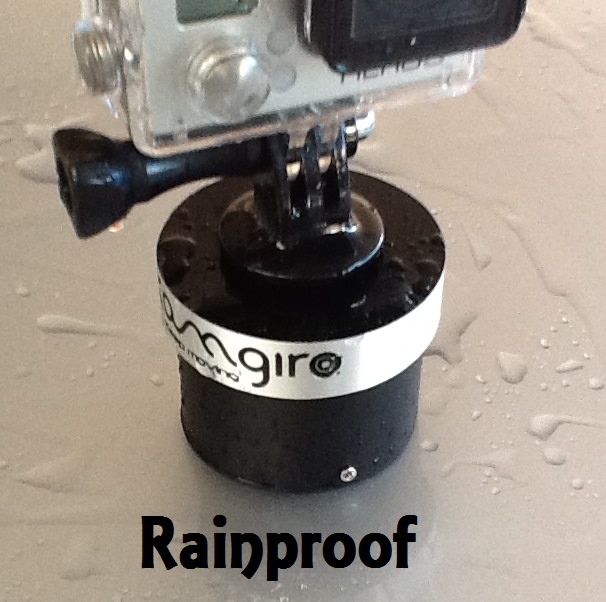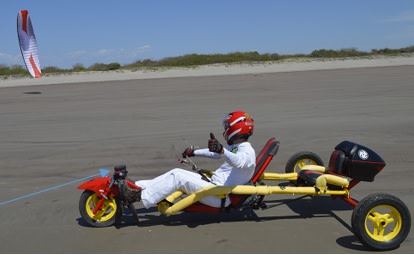 English:
While I was practicing my favorite sport I noticed that sea sand messed my action cam up and also that scenes direction was always the same, so I thought of creating a device that could direct the scenes direction with a remote control, I googled it in order to buy one and to my surprise, it wasn't invented, seeing this as a challenge, I talked with my team and we started creating it,
It's been an amusing project because of all our work with big companies, the Camgiro Project is a fusion between work and practicing sports.
On the way we found that Camgiro also helps rotate surveillance cameras.
Español: Como nació la idea
Cuando estaba practicando mi deporte favorito, todo el tiempo la cámara apuntaba en un solo lado, y cuando la ponía de frente a cada rato se ensuciaba de arena de mar, y pensé no será posible tenerle siempre viendo hacia atrás para que no se ensucie? O que pueda cambiar el Angulo de los videos sin pararme a cada rato? Busque en Internet un dispositivo económico que pudiera hacer girar mi vídeo cámara en forma inalámbrica y no encontré nada a precio razonable, al ser un apasionado en desarrollo de productos de tecnología, lo comente con mi equipo de trabajo y decidimos llevarlo a cabo.

We started developing technology many years ago, we initiated with bar-codes and RFID for Palm equipment. Nowadays we have installed our systems to many companies, such as Femsa Coca Cola, Nestle, GNP, Loreal, P&G, SteelCase, Codere, Grupo Modelo (Corona Beer), Microsoft México, among others
Historia de éxito: Hace muchos años iniciamos desarrollando tecnología, comenzamos fabricando lectores de barras y RFID para Palm. A la fecha hemos instalado nuestros sistemas en las empresas más reconocidas de México como Femsa Coca Cola, Grupo modelo (Corona), P&G, Nestle, L' Oreal, Microsoft México, Codere, Steelcase, entre otras.

Totally wireless?
Yes. Camgiro uses low energy and communicates through Wifi. The typical range is up to 300ft (100m) depending on the situation, surroundings like concrete walls, and WiFi strength. You can also use a WiFi repeater or signal booster to extend the range.
¿Es Totalmente inalámbrico?
Camgiro usa muy poca energía para comunicarse via Wifi, el Rango de cobertura es de 100 metros con el control remoto y 200 metros con Smartphone, pero depende de la situación y donde estés, si existen bardas con cemento cambia la cobertura, pero si usas repetidores Wifi se puede ampliar.
Do I need to download the app to use Camgiro?
If you order Camgiro+Bundle Wifi remote control No, but if you order only the Camgiro, Yes, the Camgiro app is required to move your Action or security cam from 90° , 180° and 360° or Random with a Virtual Joy stick or your voice.
¿Necesito bajar la app para usar Camgiro?
Si ordenas Camgiro con el control remoto Wifi no necesitas bajar la app. Si ordenas solo el Camgiro, si tienes que bajar la app para mover tu cámara de acción o de seguridad desde 90° , 180° and 360° or Random con un joystick virtual que tiene la app o simplemente con tu voz.
Is the Camgiro mobile app free?
Absolutely! Available on iOS or Android before the products ships.
¿La app de Camgiro es gratis?
Totalmente Gratis estará lista en iOs o Android antes de ser enviados los productos.
Will the Camgiro work with any Smartphone or tablet?
With most of them, yes, Camgiro is compatible with all iOS and Android 4.3+ Wi-Fi capable devices for direct connection. Camgiro creates its own Wi-Fi Network, however, no device can move your Camgiro if it doesn't have the appropriate codes.
¿Camgiro opera con cualquier Smartphone o Tablet?
Casi la mayoría, Camgiro es compatible con los sistemas operativos iOS más recientes y equipos Android 4.3+ con wifi. Camgiro crea su propia red inalámbrica, sin embargo ningún otro dispositivo puede mover tu Camgiro si no tiene los códigos apropiados de uso.

What happens to the money you raise?
The invested money will only be used for the manufacturing of your product – all funds will be spent on tools manufacturing setup and component costs.
¿Que uso darás con el dinero que se genere?
El dinero invertido será usado para la fabricación de tu producto, todos los fondos se usarán para la manufactura, maquinaria y la compra de componentes.
When will my Camgiro ship?
According to our plan we will start shipping to Field Testers in August and to everyone else in September 2016. Our field testers and early supporters will receive their orders first.
¿Cuándo enviaran mi Camgiro?
De acuerdo a nuestro plan de trabajo estaremos enviando a los primeros iniciadores en Agosto y a todo el mundo iniciamos a finales de Septiembre. A los que hicieron sus primeros pedidos y los primeros que nos apoyaron son los que recibirán las primeras órdenes.
Do the Camgiro device come with a warranty?
Yes! We offer a 12 month manufacturers' warranty on all of our products. We're pretty down-to-earth rational folks…if you're having an issue with your device, please contact us and we'll be happy to help you resolve it or replace it depending on the cause.
¿Camgiro viene con garantía?
Si ofrecemos 12 meses como fabricantes en todos nuestros productos. Si tienen algún problema en tu Camgiro, por favor contáctenos y estaremos muy complacidos de resolver tus dudas o remplazar tu equipo según la causa.
I am a distributor or reseller. How do I contact you?
Please email us at: contact@camgiro.com
¿Si soy un distribuidor o Mayorista, como los puedo contactar?
Porfavor mandanos un correo a contact@camgiro.com

Do you have customer service and technical support?
We sure do! We are here to answer all your questions. We have dedicated live chat hours for real time support, please visit our Camgiro WEB or
email to support@camgiro.com
SOPORTE A CLIENTES
¿Tiene servicio al cliente y soporte técnico?
Definitivamente! Estamos aquí para resolver todas sus dudas. Dedicamos personal durante muchas horas para dar soporte via chat en tiempo real, porfavor visita nuestra página www.camgiro.com o envíanos un correo a support@camgiro.com
Can I change or cancel my perk?
Upgrading your perks has now been made easier than ever with Indiegogo. You can do so on the contributions tab of your Indiegogo profile. See more information on how to do this here: https://support.indiegogo.com/hc/en-us/articles/526756-How-to-Upgrade-Your-Perk
Backers can request a refund of their contribution within 10 days. Please go to the IndieGogo Customer Support Center at http://indiegogo.com/contact
¿Puedo cambiar o cancelar mi contribución?
Indiegogo ahora lo ha hecho más fácil para actualizar tu contribución. Esto lo puedes hacer en el apartado de contribuciones en tu perfil de indiegogo. Por favor ve más información en este link: https://support.indiegogo.com/hc/en-us/articles/526756-How-to-Upgrade-Your-Perk
Puedes pedir tu reembolso de tu contribución en un plazo no mayor a 10 días. Porfavor dirigete al centro de soporte de IndieGogo: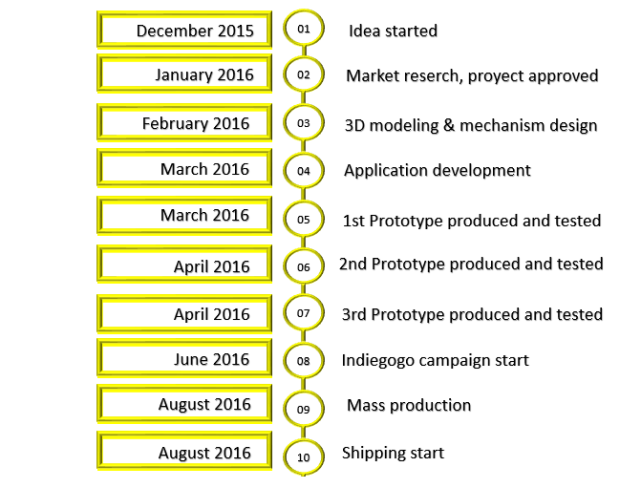 Introducing the Camgiro rewards program. We're going to reward you for spreading the word about Camgiro. All you have to do is log on to Indiegogo and share our project on your Facebook, Twitter, or Email.
When someone makes a pledge ($5,$10 & $15 tier excluded) from your shared link, we will be able to track it via Indiegogo's dashboard and you will earn a reward. The more friends you get to pledge, the more rewards you get.
Español: Introducimos el programa de recompensas para que nos apoyes en difundir el proyecto Camgiro. Lo único que tienes que hacer es registrarte en Indiegogo, iniciar tu sesión y compartir nuestro proyecto en tu muro de Facebook, Twitter o correo electrónico.
En el caso de que alguno de tus conocidos adquiera uno de los productos de Camgiro (Excepto aportaciones de $5, $10 y $15 dolares) desde el link que se genera de tu perfil, tendremos un registro de seguimiento a travez del panel de control de Indiegogo y podrás ganar una recompensa en efectivo. Entre más amigos apoyen, más recompensas tendrás.
REWARDS
For every friend that makes a pledge through your link, you will get $5 (we will refund this amount to you at the end of the campaign). If 2 friends claim Camgiro, get $10. If 5 friends claim Camgiro, get $25. Get the idea ?
IN ADDITION, you can also unlock the following color, depending on how many of your friends you get to pledge.
Recompensas
Por cada amigo que genere un compra desde tu link, tu obtendrás $5 (Este dinero se te entregará al final de la camáña) Si 2 amigos adquiren Camgiros tendras $10, y si 5 amigos adquiren Camgiros, obtienes $ 25 dolares, Ya tienes la idea?
Adicionalmente puedes desbloquear el siguiente premio, si tus conocidos compraron más de 5 Camgiros a través de tu link de Indiegogo
Example: If 5 friends pledge through your link, you will get $25 ($5 x 5), as well ascolor choice between Black, Orange, Blue, Yellow or Red for your Camgiro.
Ejemplo: Si 5 amigos compraron a travez de tu link, obtendrás $ 25 Dolares ($5 x 5), adicional a ello el Camgiro que tu adquiriste lo pondrás pedir en cualquiera de los siguientes colores Negro, Naranja, Azul, amarillo o Rojo.
How to participate:
1) Login to (or signup for) Indiegogo
** If you have already contributed to us via Indiegogo, then skip to step 3 **
2) You must be a contributor of our campaign to participate in the referral program (we can't see your referral info unless you are a contributor). There is a $ 3 pledge option if you cannot make a pledge for a higher tier.
3) Hit the share buttons on the right side of the page, or copy the link and share with your friends. There is a built in code that will track your referrals.
Como Participar.
1) Te registras en Indiegogo y accesas a la plataforma.
** Si ya contribuiste a la campaña de Camgiro via Indiegogo, porfavor pasa el punto 3 **
2) Para poder participar en la campaña de recompensas, tienes que haber participado por lo menos con el apoyo de $ 3 dólares o bien puedes dar un apoyo mayor si lo deseas.
3) Selecciona el botón de compartir que está en el costado derecho de la página, o copia el link y compártelo con tus amigos. Tendrás un código de control para darle seguimiento a tus conocidos.
How to track your results:
1) Log into your Indiegogo account.
2) Click on your user name beside the search box at the top right of the page.
3) Select the "My Profile" option.
4) Click on the "Referrals" tab for the latest totals of referrals and contributions.
5) Count the funders that contributed.
Como darle seguimiento a tus resultados:
1) Entra a Indiegogo con tu cuenta.
2) Da un clic en tu nombre de usuario que se ecnuentra al lado del cuadro de búsqueda en la parte superior derecha de la página.
3) Selecciona Mi Perfil o My Profile.
4) Da un clic en referencias para ver los totales que llevas acumulados de las referencias generadas.
5) Y cuenta cuantos de tus amigos han contribuido.

CAMGIRO is a trademark of HOC DIGITAL, S.A.DE C.V., registered in the México and other countries.
CAMGIRO is made to work with GoPro's Hero® cameras, Drift Cameras, Security Cameras and Android and iOS Smarpthones
GOPRO and the GoPro logo are trademarks of GoPro, Inc., registered in the U.S. and other countries.

Since 2006, COFOCE has supported us to export World Wide.
What is COFOCE?
A mixed organism with citizen participation with businessmen from the export sector, decentralized from the State Government, dedicated to promotion the exports from Guanajuato.
Thanks COFOCE to support Camgiro project.

Since 2007, Promexico has supported us to export World Wide.
What is Pro México ?
Promote the attraction of direct foreign investment and the export of goods and services, as well as the internationalization of Mexican companies in order to contribute to Mexico's economic and social development and strengthen the country's image as a strategic business partner.

The Mexican Chamber of Electronics, Telecommunications and Information Technologies(CANIETI) has been an advocate for these industries in our country for more than 70 years, promoting their growth and development within a global setting through high-quality services.
Thanks Canieti to support Camgiro Project
http://www.canieti.org/Inicio/English/englishcan/about.aspx

Ana Raso
Manager
Michelle Cabrera
3D Designer
Mary Keating U.S.A.
Consulting
Luis Garcia
Electronic Engineer
Louis Sirico U.S.A.
Consulting
Nicole Keaffer U.S.A.
Consulting
Enrique Guzman
WEB Developer
Dany Anderson
iOS Developer
Eduardo Garcia
Android Developer
Pedro Ramirez
Production
Cristian Pineda
Designer
Alexander Morales
Engineer control
Marco Cabrera
Campaign Consulting
Mauricio Ramos
Video consulting
Susana Santibañez
Video Supervisor
Alejandro Angeles
Kite surfer
Arlenne Peralta
Imagen supervisor
Susana Ramos
Script supervisor
Omar Rivas
Video Supervisor
Julio Hernández
Skate Kiter
Nelly Carrillo
Image supervisor
Javier Villalpando
Skate Kiter
Clara Albarran
Video control
Jose Ma. Real
Kite Buggy Pilot
Andres Peralta
Cost consulting
Ana Paola Figueroa
Hang Glider Pilot
Gustavo Venegas
Video Supervisor
Alejandra Flores
Assistant
Manolo Velazquez
J.Manuel López
Motorcycle Model
English Supervisor
From COFOCE
Luis Rojas
Director
Pedro Nieto
Chief Promotion
Luis Vargas
Export promotion
Jorge Muñoz
Export consulting
Marcos Hernandez
Legal coordinator
From Canieti
Adriana Valdivia
Director
From Pro México
Sergio Rios
West Coast Director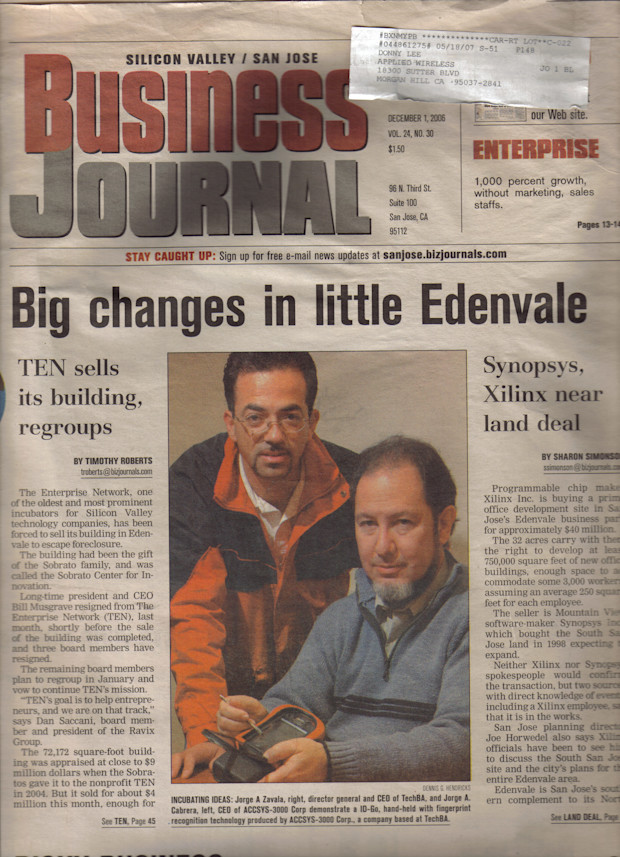 Hello and thank you for taking the time to read my Project, I mention that I've been a person with a technology innovative spirit for 20 years. In 2007 we won an award and we went to create the Company Silicon Valley, we have created many pioneer products in the world, from RFID systems to wirelessly controlled A.I. houses, all of these developed in our Company with evidence of that. Today most of the big companies in Mexico have our products, annex videos from ACCSYS-3000 and HOC-DIGITAL (Our Companies)
Summary:
Wifi, Bluetooth or Smartphone control for your Action or Security Cameras, Rainproof tested
Youtube: https://youtu.be/Urym0G-RCN4
See Campaign: http://www.indiegogo.com/projects/camgiro-wireless-panning-head-for-action-cams
Contact Information:
Jorge Cabrera
Tags:
Indiegogo, English, Crowdfunding, Reward-Donation, Europe
The post Camgiro Wireless Panning Head for Action Cams – Wifi, Bluetooth or Smartphone control for your Action or Security Cameras, Rainproof tested appeared first on iCrowdNewswire.
Source: ICNW